3M Dual Lock SJ355x (GQ 4000 3952 1)
Description
(RRP £140)
Strips with Pressure Sensitive Acrylic Adhesive
Fair initial adhesion, with gradual adhesion build-up
High shear strength
High temperature resistance -5°C to +69°C continuous and -5°C to +90°C intermittent
Excellent moisture, solvent and UV resistance
Good age life
Note
pressure sensitive adhesives require a clean, dry and stable surface to achieve maximum performance.
Supplied in a bag of 5 twin strips (5 x 170 stem and 5 x 400 stem strips).
Each strip contains 5 squares (each 25mm x 25mm).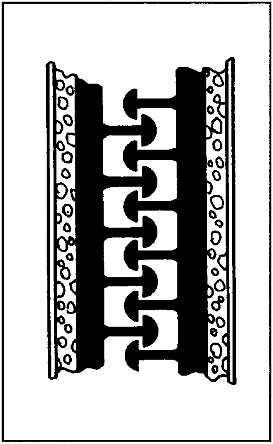 3M™ Dual-Lock Reclosable Fastener - Squares SJ-355X
Strength
The design of the 3M™ Dual Lock™ SJ355X hook and loop tape is made up of mushroom-shaped stems in uniformed squares. When the stems have combined they interlock together, thus generating five times the closure strength of a typical hook and loop fasteners.
The SJ355X hook and loop tape contains 40 mushroom-shaped stems per cm² (250 per square inch). When joined, the stem snaps back into its original position, interlocking with the opposing heads. This system can be opened and closed 1000 times before losing 50% of the original tensile strength.
No drilling, screwing, tightening, or complex installation
The Dual Lock™ tape uses a clear acrylic adhesive that bonds well to a variety of materials, including some plastics, metal, glass, and painted surfaces. The squares are backed with a pressure sensitive adhesive. Once bonded the interlocked, mushroom-shaped stems may hold as well as screws and rivets, yet separate easily for access.
The 3M SJ-355X tape features a pressure sensitive acrylic nylon tape protected by a removable liner. This ensures the construction allows for better contact with surfaces having a slight texture or surface irregularities.
Versatile, durable and invisible
There's no limit to the number of uses for this tape, with the stems, mushroom tops, and film backing made of polypropylene. The fastener is recommended for low temperatures reaching 50 °C long term (70 °C short term).
Features and Benefits
• A Black fastener with mushroom shaped stems, backed with an acrylic pressure sensitive adhesive
• Type 250 mates to Type 170, 250 or 400. Closes with an audible snap
• Five times the tensile strength of typical hook-and-loop fasteners
• Opens and closes 1000 times before losing 50% of its original tensile strength
• Designed to bond to metals, glass and medium to high surface energy plastics and paint
• Foam tape backing allows for better contact with textured or irregular surfaces
Typical Applications
• Attaching objects to secure surfaces
• Hanging graphics and banners that change frequently
• Automotive industry
• Medical Supplies such as securing a brace
How is hook and loop attached to a product?
There are a number of ways to attach hook and loop to a product. Having a fabric backed hook and loop, it can be sewn into textiles and fabrics. It can be glued to a surface using pressure sensitive adhesives or even applied using a heat activated adhesive.
Does water affect the performance of hook and loop tape?
Hook and Loop tape will not degrade in water and water doesn't affect the holding strength of the tape.
Why choose 3M?
3M are a trusted name in tapes and adhesives. With a huge range of versatile and specialist tapes, 3M support dozens of industries and applications, from heavy-duty construction to DIY around the home. Whatever your needs, 3M supplies an adhesive solution that won't let you down.